Jennifer A. Doudna
2019
Prize Category:

Welfare Betterment Prize

 
Specific Area of Focus: Nil
CITATION
Jennifer A. Doudna is awarded the LUI Che Woo Prize for Welfare Betterment for co-inventing the genome engineering tool CRISPR-Cas9, one of the most monumental scientific discoveries of our time.   
This revolutionary technology has quickly transformed the landscape of plant and animal gene editing, creating new possibilities for improving human welfare, from the treatment and cure of human diseases to the enhancement of agricultural productivity.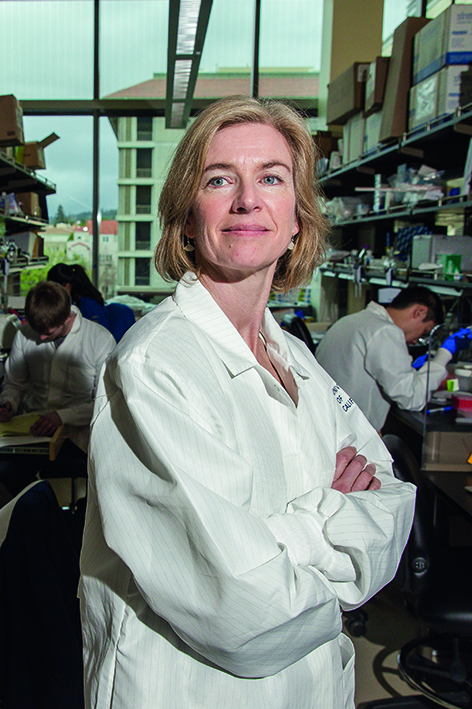 BIOGRAPHICAL NOTE
Jennifer A. Doudna, Ph.D as an internationally renowned professor of Chemistry and Molecular and Cell Biology at UC Berkeley, where she holds the Li Ka Shing Chancellor's Chair in Biomedical and Health Sciences, Doudna and her colleagues rocked the research world in 2012 by describing a simple way of editing the DNA of any organism using an RNA-guided protein found in bacteria. Their achievement has opened the floodgates of possibility for human and non-human applications of gene editing, including assisting researchers in the fight against HIV, sickle cell disease and muscular dystrophy. Used wisely, CRISPR-Cas9 promises to be of huge benefit to mankind.  
Among other distinctions, Doudna is an Investigator with the Howard Hughes Medical Institute as well as a senior investigator at the Gladstone Institutes, and a member of the National Academy of Sciences, the National Academy of Medicine, the National Academy of Inventors and the American Academy of Arts and Sciences. She is also a Foreign Member of the Royal Society, and has received many other domestic and international honours including the Kavli Prize, the Breakthrough Prize in Life Sciences, the Heineken Prize, the BBVA Foundation Frontiers of Knowledge Award and the Japan Prize. She is the co-author with Sam Sternberg of "A Crack in Creation," a personal account of her research and the societal and ethical implications of gene editing.  
Groundbreaking work in the co-development of the genome-engineering technology CRISPR-Cas9